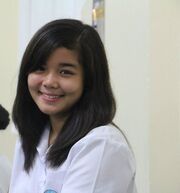 - "Ang corny mo, Raffy."
- (Chiki commenting on one of Raffy's jokes)
You Know?
Name: Zeleeka Nora Gonzales
Birthday: April 9,1996
Achievements:
1st yr Honor student
2nd yr (1st-2nd Qtr) Honor student
3rd yr (1st-3rd) Honor student
1st year filipino play (best director)
3rd yr play (winner)
4th yr play (most gorgeous goddess) (I OBJECT hahaha joke :P -IMP)
Nuvali Cup (2x), Sta.Rosa League, Milo cup -Champion
MVP-Nuvali cup
Chancellor's cup - Champion
Himig Handog -Champion
Off Festival -4th
Labay Cup -2nd
2nd & 3rd- excellence in sports
Dance Comperirion -4th yr Champion
Asst Coach (LBFS starlings) & summer
3rd year (Limang Dipang Tao -winner)
Team Captain (LBFS Phoenix)
Hobbies:
Playing Football
Reading Books
Eating
Texting
Talents:
Girl Pickup
Playing Football
Description:
Kamuka ko daw ako ni JANNIELYN SAPANTA BASYE! :D, Cheekballs(Cheekbones), Curly eyelashes, you'll often see my hair down, I fancy the color violet, I love Phineas and Ferb, Almonds,Oreo,Cream Puffs,MCFLURR blabla :)) It has always been my dream to go to Greece and travel around Europe. I prefer Nike rather than Adidas. Enchong Dee! ♥, I love being photograph, I love Kids! and being with my best friends satisfy me :) UPCAT PASSER
Quotes:
-Blank-
Zeleeka Nora "Chiki" Gonzales is currently a 4th year high school at South Hill School in Mt. Isarog. She is currently a footballer who has had experience in the arts of directing, acting and singing. She was the previous vice-president of Mt. Caraballo and Mt. Biliran.
Biography
Born April 9, 1996, Chiki is the eldest amongst her siblings. She entered South Hill School Inc during her 1st year in high school in the section Mt. .
Because of her complexion, she became a candidate for Ms. Freshman at the 2008 Acquaintance Party. During her first year in South Hill, her beauty captured the attention of many boys and she became known as the "Crush ng bayan" of their batch.
She became an honor student during her first year. She also directed the play of her class and earned the award of Best Director.
Chiki continued her schooling in South Hill and was placed in the section Mt. Caraballo for her second year in high school. She was voted as the vice-president of the section. During the first and second quarter, she was an honor student. She directed the play, "Florante and Laura", for her section. At the end of her second year, she was awarded the accolade of "Excellence in Sports" for her participation in football.