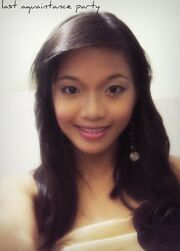 - "Oy, tahimik naman oh!"
- (Lerma trying to make the class quiet)
You Know?
Name: Lerma Melissa V. Salamat
Birthday: July 29, 1996
Achievements:
Nuvali Cup (1st place-Soccer)
Himig Handog (Champion-Choir)
Labay Cup (2nd place-Soccer
kaRUNungan (3rd place-FUN RUN)
Hobbies:
Watch TV
Play Computer Games
Text
Volleyball
Soccer
Eat
Hangout with Friends
Play Guitar
Talents:
Dance
Sing
Play any sport
Description:
I am friendly, kind and "makulit". Wag n'yo lang talaga akong gagalitin. xD
Quotes:
"I can do anything with the help of God"
"Move on, let go." -Anabell Lee