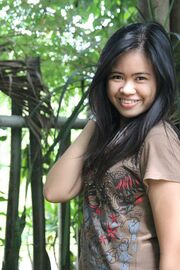 - "Hindi!!!!!"
- (Lorraine when someone gets her wrong)
You Know?
Name: Anna Lorraine Protacio
Birthday: Oct. 7, 1995
Achievements:
Best Donya Consolacion
Did a solo in a ballet
Crush ng Bayan
When i got slimmer
Hobbies:
Dancing
Being Idle
Watching K-dramas :)
Talents:
Description:
Senior student. They call me "Lorz" or "Lorraine". I love to dance. :)
Quotes:
" THAT'S HOW REALITY IS, PEOPLE JUDGE W/O KNOWING THE REASONS. PEOPLE AREN'T ALWAYS WHAT THEY SEEM, AND PEOPLE LEAVE EVEN IF YOU DON'T WANT THEM TO."
<( TT_____TT)>