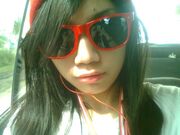 - "
Oyyy... Kain tayo."
- (Mckaye asking someone to join her in eating)
You Know?
'Name:' Ianne Mckaye Rivera Manzanero
Birthday: March 22,1996
Achievements:
Pre-Elem
1st place Speaking Contest
Santa Claus (Christmas Party)
Elementary
Math Quiz Bee Champion (gr.1) (Recieved 4 gold medals)
Has been chosen as one of the dancers in Ferngully (gr.4)
Dance competition Champion (class-gr.6)
High School
3rd place Spelling Beem -1st year
Honor Student (2nd honor) -1st year
Highlights (Literary Writer) -2nd year
Honor Student -2nd year
Himig Handog Champion (Soprano 2) -3rd year
2nd Place Dance competition (Acque.) -3rd year
Highlights (Literary Editor-Promoted!) -3rd year
Linggo ng Wika (Winner-Speech Choir) -3rd year
Gng. Buklod ng Wika -3rd year
Honor student (up to 3rd Qtr) -3rd year
4th year Representative (SG) -3rd year
Dance Competition Champion (Acque.) -4th year
Survived the UPCAT! :) -4th year
Had the best section ever! :) -4th year
PhotoJournalist at Highlights -4th year
Passed MTG -4th year
Hobbies:
Reading Pocket books
Surfing the internet
Singing in front of the mirror
Eating Hershey's Chocolate
Going to the mall
Watching TV/VCD/DVD/Movies
TEXTING!
Hanging out with friends
Talents:
Description:
SMALL BUT TERRIBLE.
Quotes:
"Enjoy-in mo lang, mamimiss mo rin yan."