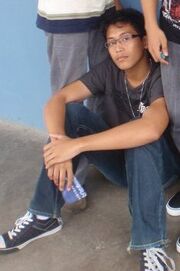 - "Ah-ah. Anong (Insert implicit statement here)???"
- (Mickey when hearing an implicit statement)
You Know?
Name: Michael Benedict M. Belarmino
Birthday: February 6, 1995
Achievements:
Haiz sorry..too many to mention
Hobbies:
Anything that's possible to do
Talents:
Too many to mention baka di na magload wikia pag linagay ko lahat >:D
Description:
Kaya mo yan may utak ka naman para mag describe diba?
Quotes:
"You know"
Ad blocker interference detected!
Wikia is a free-to-use site that makes money from advertising. We have a modified experience for viewers using ad blockers

Wikia is not accessible if you've made further modifications. Remove the custom ad blocker rule(s) and the page will load as expected.