Mt. Isarog Wikia
is a detailed website about the details on classroom activities, students and more. This wikia is to be a 2nd yearbook for the class to remember the last days in high school.
Description of the Wikia
You'll get an update and read back all the happy moments of what Mt. Isarog did in its last school days.
NEWS (Updates of this WIKIA)
Students data will be updated
"Did you know?" fact for each student coming soon
Videos may be added
Stuff might be added
Something special- coming soon
6 MORE STUDENTS' DESCRIPTION LEFT TO WRITE
ALL PAGES ARE NOW LOCKED
Content
Event of the Week
Talents have now shown to be overflowing as
Mt. Isarog Got Talent
presents itself on Friday, Sept. 9, 2011.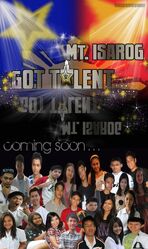 Headed by President Jastine Ramilla, Mt. Isarog Got Talent will present more than 7 individual and group performances encompassing the arts of dancing, singing, and acting.
The contest will consist of 26 people, each within a group or by themselves. Everyone is given from 1 minute - 5 minutes maximum to complete their performance. They will be judged based on Creativity, Costume/Props, Audience Impact, and Performance/Awesomeness. Read More...
Featured Student of the Week
Jastine Ramilla
, with his dance moves and out of character performance, is the first
Featured Student of the Week
. Impressing both Mt. Isarog and Mt. Batulao, he shows that not only can he be a serious guy when in need but a wacky and fun person to watch and see. Also, with his cooperation in the Mt. Isarog Got Talent, he was able to make the event a reality. His performance in the talent show will be remembered for the days and months to come.
Read More...