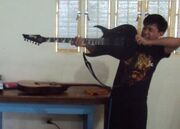 -
"Choklatine."
- (Raf's implicit statement to Jastine)
You Know?
Name: Rafael Landicho Carandang
Birthday: Oct. 5, 1995
Achievements:
where to start?
Amazing soccer player
Rockstar idol
too many to tell
Hobbies:
Taking a picture of clouds and nature (lang daw)
Talents:
Playing the Guitar
Playing Soccer
and more
Description:
I am a normal person and an average student. (yeah right)
Quote:
" WE BREATHE MUSIC"
Ad blocker interference detected!
Wikia is a free-to-use site that makes money from advertising. We have a modified experience for viewers using ad blockers

Wikia is not accessible if you've made further modifications. Remove the custom ad blocker rule(s) and the page will load as expected.