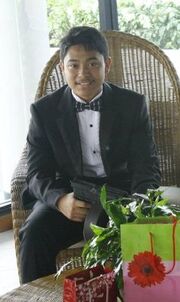 -
"Ahahahaha!"
- (Raffy's expresion while pointing at something)
You Know?
Name: Rafael Antonio C. Canillas
Birthday: Aug 8, 1995 (2011 daw nakalagay sa papel haha fail)
Achievements:
Honor at Grade 2 didn't got on the honor list until 3rd year
Got multiple achievments on ARTS
Defeated Charice Pempengco in little big star when I was in grade 3
Hobbies:
Drawing and Painting
Making Props
Cosplaying
Wood Arts
Dancing
Computer Games
Taekwondo
Watching Youtube vids
Listening to music
Talents:
Dancing
Drawing
Painting
Playing the Piano (piano-ing?:D)
Description:
You decide baby
Quotes:
"ANG PINTUAN!!"
"Happiness!"
"(WHAT THE FORK?!)"
"Lub you everybody!"
"Shuffle like Kratos!!"