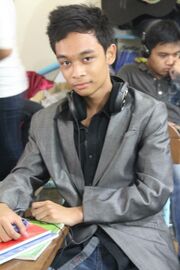 - "Ano yaaaan..."
- (Renzo's reaction when he hears of an implicit statement)
You Know?
Name: Renzo Luis Ortiz Lapitan
Birthday: April 1,1996
Achievements:
1st year HS honor Student
Reached level 151 in Ran Online PH :P
Chessmaster! jk :D
Hobbies:
Playing Computer Games
Watching TV
Sleeping
Teasing >:D
Talents:
Expert in Running
Description:
I really don't know what to brag about myself because I'm not that of a great guy. I'm just a masochist. That's all.
Quotes:
"Struggle and live on"