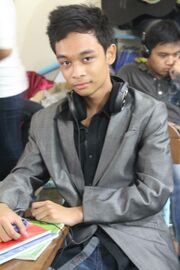 - "Ano yaaaan..."
- (Renzo's reaction when he hears of an implicit statement)
You Know?
Name: Renzo Luis Ortiz Lapitan
Birthday: April 1,1996
Achievements:
1st year HS honor Student
Reached level 151 in Ran Online PH :P
Chessmaster! jk :D
Hobbies:
Playing Computer Games
Watching TV
Sleeping
Teasing >:D
Talents:
Expert in Running
Description:
I really don't know what to brag about myself because I'm not that of a great guy. I'm just a masochist. That's all.
Quotes:
"Struggle and live on"
Ad blocker interference detected!
Wikia is a free-to-use site that makes money from advertising. We have a modified experience for viewers using ad blockers

Wikia is not accessible if you've made further modifications. Remove the custom ad blocker rule(s) and the page will load as expected.