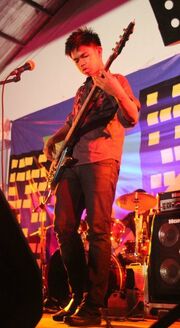 - "ANAK NG TOKWA!!!"
- (Tyrone's reaction when he remembers something)
You Know?
Name: Tyrone Baliton Pantua
Birthdate: July 18, 1995
Achievements:
Gr.1 3rd Honor
Gr.2 5th Honor
Nangayayat
Best Band 3rd Year
Main Bassist of SMC
Best Florante
Top 11 sa simulation
Best in Reading sa simulation
PhiSci 1st exam passer
Team Captain ng SMC
Hobbies:
Playing music
Soccer
Poem writing
Talents:
Playing music
Acting
Mag pagalaw ng tenga
Mag pagalaw ng ilong
Description:
Italiano ako (Ita ang tatay at Ilocano ang nanay). Nababadtrip ako sa mga taong tumutugtog o gumagaya ng mga bagay-bagay para magpasikat. Hindi ako natutuwa sa pambabara. COO ng Herb Republic (Child of Owner). I'd rather download movies than watch them in the theaters. Nageenjoy akong manuod ng musical plays wag lang super "crapy".
Quotes:
"Ang buhay ay parang bato........It's hard"
"Love is a plain piece of paper. What you write on it defines it."